newsletter subscription
Your personal newsletter .
Do you need to be focus on an Italian area or city for a defined time? For your journey in Italy or just for your information? Here your personal newsletter in easy Italian. File in pdf extension with the major events in the area and in the period you are interested in: the exhibitions, the festivals, the concerts, the fairs and the contacts of them.
Subscribe:
1 personal newsletter ( maximum two week) in easy Italian 3,90 euro
You will recive it till 48 hour. Write us for the area, period and to confirm the payment leranitalianow@hotmail.it ( object: newsletter ad hoc)
For more than two weeks  or for e mail in English contact us for the price.
Newsletter n 2: Italy news 1 File in pdf extension, every week with more information about Italy: news, society, lifestyle and more. Subscribe:
10 newsletters 5 €
20 newsletters 8 €
30 newsletters 12 €
The subscriber will receive our newsletter on Wensday in an easy Italian language.
Your free newsletter
Let's read the news about events and exhibits in Italy in the free newsletter!
newsletter free
newsletter 26/05/2014
IL LAGO DI GARDA: una buona occasione per fare attività acquatiche
Con la bella  stagione le possibilità di svolgere attività all'aria aperta sono tantissime. Nella provincia di Verona  iniziano le scuole di vela e windsurf da fare sul lago di Garda. Per i più adrenalinici si apre la stagione del kite surfing a Brenzone dove potrete volare sull'acqua. Ecco qualche indirizzo utile se decidete di fare un po' di sport acquatico sul magnifico lago di Garda.
Per kite surfing
Garda Surf Via Benaco, 14 Cell: 338 3388817 Brenzone
Per attività acquatiche in generale
WWWind Square Località Sottodossi Tel: 045 7400413 Cell: 335 8275300 Malcesine
Surf Point Garda Via Rivalunga, 5 Cell: 333 4095656 Bardolino
Altre idee da fare sull'acqua ? Che ne dite di un corso di canotaggio?
Ecco l'indirizzo che fa per voi
Centro Nautico Bardolino Lungolago Preite 10 Tel. +39 045 7210816
Anche in questo caso se siete più adrenalinici la proposta è il rafting! Questo l'indirizzo per voi
Rafting sull'Adige Associazione promozione sport fluviali Tel.  +39 045 8921733 Cell. +39 347 8892498
Infine un appuntamento da non  perdere è il   campionato bandiera del lago   che ci fa scoprire il folklore e la tradizione di questa area stupenda. Prendono paesi  quasi tutti i paesi del lago con le tipiche imbarcazioni che sono appunto le bisse e guidate da 4 rematori. I prossimi appuntamenti? Ecco il calendario per poter partecipare almeno ad uno di questi. Che cosa aspettare ancora? Buon divertimento sul lago di Garda
Mese
Giugno
Sabato 21            BARDOLINO       SERALE
Sabato 28           GARDA NOTTURNA
Luglio   
Sabato 5              TORRI DEL BENACO        NOTTURNA
Sabato 12           GARGNANO      SERALE
Sabato 19           PESCHIERA DEL GARDA                SERALE
Sabato 26           RIVOLTELLA di Desenzano del Garda     SERALE
Agosto
Sabato 2              CASSONE di Malcesine NOTTURNA
Sabato 9             LAZISE (Regata finale)   NOTTURNA
newsletter 22/05/2014
JAZZ MUSICA E TEATRO A GENOVA FINE MAGGIO 2014
Torniamo a Genova è per vedere cosa fare in questo finale di Maggio che si prospetta carico di eventi
Volete ascoltare musica classica? Ecco due appuntamenti
27 maggio 2014
Conservatorio "Nicolò Paganini" Centro storicoI Capricci di Paganini
28 maggio 2014
Conservatorio "Nicolò Paganini": Concerto finale nella Sala Concerti del Conservatorio
Per avere maggiori informazioni
Se siete invece appassionati di teatro ecco uno spettacolo con ingresso libero. Da non mancare
Dal 27 al 31 maggio 2014
XIX Rassegna di drammaturgia contemporanea
"UNA COPPIA DI POVERI ROMENI CHE PARLANO POLACCO" di Dorota Maslowska
con Matteo Sintucci, Valeria Angelozzi, Davide Mazzella, Valentina Illuminati
Regia di Marco Taddei
Produzione del Teatro Stabile di Genova
ingresso libero
Appassionati di Jazz? Ecco un appuntamento irrinunciabile
29 maggio 2014
Aperitivi in jazz
ore 19.00 – Foyer Teatro Carlo Felice
Asti Jazz Orchestra
Direttore, cantante e trombone solista
Benny Lamonica
Buona Genova a tutti!
newsletter del 19/05/2014
BOLZANO : SCOPRIRE  SEI CASTELLI IN TRE GIORNI
13 – 15 giugno 2014
Che ne dite di scoprire dei fantastici castelli? Dal 13 al 15 giugno 6 castelli nei dintorni di Bolzano apiranno le porte per delle visite inedite. Come farsi scappare un'occasione di questo genere?
Ecci i castelli coinvolti nell'iniziativa
Castel Roncolo | Bolzano
Castel Mareccio | Bolzano
MMM Firmian | Bolzano/Castel Firmiano
Castel Moos-Schulthaus | Appiano/Monte
Castel d'Appiano | Appiano
Castel Forte | Ponte Gardena
Ogni castello è raggiungibile grazie ad una navetta che parte da piazza Walther.
Attenzione per chi avesse disabilità per il Castel d'Appiano, raggiungibile solo a piedi.
Volete maggiori informazioni?
Piazza Walther 8
I-39100 Bolzano
Tel. +39 0471 307 000 | Fax +39 0471 980 128
www.bolzano-bozen.it
newsletter del 16/05/2014
VAL D'ARDA e CATELL' ARQUATO . TUTTI GLI EVENTI DI MAGGIO
DOMENICA 1 GIUGNO
IL CASTELLO DI BIANCANEVE
ROCCA VISCONTEA di CASTELL'ARQUATO
Biancaneve? Non è solo una favola ma esiste. La prova l'avrete il 1 giugno in questa festa che è una fiaba vivente e acquista maggior credibilità grazie anche alla splendida cornice medievale della location
14.30 -15.30 – 16.30 -17.30
Evento con Animazione per bambini e famiglie
Prenotazione obbligatoria : Tel. 0523 803215 – Mailiatcastellarquato@gmail.com

EVENTI VIGOLENO
MUSEO DELI ORSANTI
Il Museo gli Orsanti riapre a Vigoleno
Casa Tanzi. Orari e  prezzi:http://www.museogliorsanti.it/info_e_contatti.html
Info e prenotazioni:329 7503774

DOMENICA 1 GIUGNO
CONCERTO LIRICO VOCALE 
Quì e in ogni luogo la musica crea sempre una magia particolare. Sedetevi e godetevi l'armonia delle note.
Ore 17.00 Piazzetta della fontana, Borgo di Vigoleno
RENATA CAMPANELLA SOPRANO 
CORO LIRICO FERRUCCIO BUSONI DI PARMA DIRETTO DA GREGORIO PEDRINI 
PALMIRO SIMONINI PIANOFORTE 
Info e prenotazioni: 3289350638 e-mail: f.busoniconcerti@libero.it 


EVENTI FIORENZUOLA D'ARDA



24 MAGGIO – 2 GIUGNO
I PITTORI DI IERI DI VIA SAN FRANCESCO 
Quadri di Merli Vittorino, Arcari Remo, Civardi Anselmo, Vaienti Bruno
A cura della Pro Loco di Fiorenzuola d'Arda
Orari di apertura: da sabato 24 maggio a lunedì 2 giugno dalle ore 10.00 alle ore 12.00 
e dalle ore 16.00 alle ore 19.00
Ex Macello – Largo Gabrielli
Info: 0523 9891

LUNEDI' 26 MAGGIO
LE TROIANE – di Euripide
Una splendida tragedia greca da vedere gratis. Queste occasioni vanno sempre colte!
A cura del Polo Scolastico Mattei
Teatro Verdi ore 21.00 – Ingresso libero
Info: 0523 985253 



30 MAGGIO -2 GIUGNO
FESTA DELLA RANA
A cura della Pro Loco di Baselicaduce
Info: proloco_di_baselicaduce@yahoo.it
  
Tantissimi appuntamenti per un inizio estate all'insegna delle attività in questo luogo da scoprire! 
newsletter del 13/05/2014
TUTTI A ROMA
L'ARTE DEL COMANDO. L'eredità di Augusto
Museo dell'Ara Pacis
Fino a 7 settembre 2014
In questa mostra verranno illustrate le tattiche e le capacità di Augusto di determinare azioni politiche, militare e di suggellare il grande potere che ebbe nell'epoca in cui regnò.
www.arapacis.it
Disegni di architettura del Settecento
Fino al 30 giugno 2014
Museo di Roma, Sala della Grafica
Non esiste solo una Roma classica ma anche una magnifica Roma Barocca che presentò delle architetture splendide durante il Settecento affermando ancora una volta la sua magnificenza. in questa mostra verrà descritta all'epoca urbanistica del barocco analizzando le opere maggiori ma anche quelle minori e dando quindi un quadro d'insieme completo e rilevante.
Per i biglietti
http://ticket.museiincomuneroma.it
newsletter del 12/05/2014
FACCIAMO UN SALTO A BENEVENTO!
RADUNO DI FERRARI
DAL 31 MAGGIO 2014 al 2 GIUGNO 2014
Amanti della Ferrari un appuntamento da non perdere assolutamente!  Una schiera di scintillanti Ferrari arriveranno in zona Benevento per tre giorni facendo un raduno itinerante. Non solo i raduni sono divertenti, si conosce gente nuova e si scambiano idee ma in questo caso potrete rifarvi gli occhi ammirando le Ferrari, pregio dell'industria automobilistica italiana.
Dove andare quindi?
Aci di Ariano Irpino ( AV) il 31 Maggio e si proseguirà verso San Giorgio del Sannio e Benevento
Il giorno 1 giugno tutti a Benevento nella mattinata  per partecipare a simpatiche iniziative promosse dal raduno e poi nel pomeriggio a Pietrelcina.
Il giorno 2 giungo si torna a Benevento per festeggiare la festa della repubblica.
BENEVENTO LONGOBARDA
20- 22 giungo 2014
Una settimana dedicata al passato che rievoca l'evento storico della " Contesa di Sant'Eliano". In questa settimana si potrà accedere a prezzo ridotto al museo del Sannio, all'Arcos e al Museo dell'Arco a Benevento.
Il programma è ancora provvisorio ma potete avere un'idea al link sotto
http://www.beneventolongobarda.it
newsletter del 06/05/2014
Fra LUCCA  e LE ALPI APUANE: si cammina e si mangia!
Maggio 2014
Con la bella stagione è tempo di tirare fuori le scarpe da tennis e camminare: fa bene alla salute ed è piacevole.  Nella provincia di Lucca  e dintorni vengono organizzate delle escursioni a piedi organizzate che vi permetteranno di scoprire nuovi luoghi e fare un po' di movimento. Senza ovviamente dimenticarci di mangiare i piatti tipici.
Ecco le prossime date
ESCURSIONI A VILLA BORBONE
Sono passeggiate nella macchia  lucchese dove è possibile ammirare la natura del posto e la bellezza dei fiori in questa stagione. Grazie all'accompagnamento di guide specializzate in scienze naturali si potranno approfondire determinate conoscenze.
Venerdì 30 Maggio
ore 18.30 / 23.00 – Escursione per bambini "Gufi, Civette, Allocchi" **
Sabato 31 Maggio
ore 18.30 / 23.00
Escursione per adulti "Gufi, Civette, Allocchi" **
( ** ) = prenotazione obbligatoria, quota di partecipazione
Per maggiori informazioni
Legambiente Versilia
c/o villa Borbone, viale dei Tigli, loc. La Lecciona
Tel. 0584 383726 – cell. 389 9231999 – centrovisite.villaborbone@​gmail.com
APPUNTAMENTI A KM ZERO NELLE ALPI APUANE
Siete pronti a camminare ma anche a mangiare?  Un'iniziativa per scoprire il territorio con varie tappe. Ecco le prime due.
Prima tappa  16 maggio 2014 ore 20 presso il Rifugio città di Massa a Pian della Fioba (MS). Si possono assaggiare prodotti tipici locali. Il costo è di 15 euro. Per la manifestazione è previsto un servizio navetta.
Potete chiedere maggiori info al link sotto indicato
www.facebook.com/rifugio.massa
Seconda tappa 24 maggio a Levigliani di Stazzema (LU) presso l'Albergo Ristorante Vallechiara con spettacolo teatrale per allietare la cena.
Per informazioni
gciari@parcapuane.it o telefonica 0584/758277
Cosa aspettate? Un maggio speciale da gustare !
newsletter del 29/04/2014
Cosa fare a Siracusa
Bella, calda e soleggiata: Siracusa sorride ai visitatori che sostano sul suo territorio, trasmettendo tutto il calore delle città siciliane. Oltre a dedicarvi a mangiare e riposarvi ecco alcune delle iniziative che Siracusa offre in questo periodo:
RAPPRESENTAZIONI CLASSICHE AL TEATRO GRECO DI SIRACUSA
Dal 9 Maggio al 22 Giugno 2014
Intenso e suggestivo programma di rappresentazioni al teatro Greco di Siracusa. Gli spettacoli sono a pagamento. Sarà magico poter assistere a rappresentazioni di grandi opere.
Per avere informazioni dettagliate sulla programmazione ecco i contatti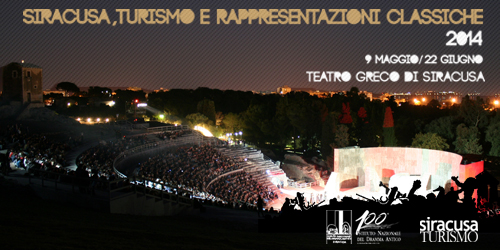 newsletter del 22/04/2013
Verona e l'arena
Giugno settembre 2014
Con la bella stagione si può apprezzare una serie di spettacoli all'aperto. Grandi appuntamenti Italiani sono sicuramente Umbria Jazz festival, la stagione concertistica a Ravello, le numerose manifestazioni nel Teatro di Taormina. Tantissimi altri luoghi diventano espressione per l'erte della danza, del teatro, per la musica. Uno dei luoghi famosi per le sue rappresentazioni e per la bellezza della location è sicuramente l'arena di Verona. I biglietti vanno a ruba quindi il consiglio è di individuare lo spettacolo che vi interessa ed organizzarvi in tempo sia per l'acquisto di biglietti che per la sistemazione ( hotel). Potreste incontrare difficoltà a trovare posto se non organizzate prima questa partecipazione. Gli spettacolo all'arena che attraggono la maggior attenzione sono quelli di carattere operistico.
Ecco il programma per questo anno
CARMEN
Date
21 giugno  e 26 giugno
4 luglio
10 lulgio
18 lulgio
1 Agosto
7 AGosto
14 Agosto
29 Agosto
3 Settembre
AIDA
date
28 Giugno 2014 ore 21:00
3 Luglio 2014 ore 21:00
6 Luglio 2014 ore 21:00
8 Luglio 2014 ore 21:00
15 Luglio 2014 ore 21:00
20 Luglio 2014 ore 21:00
23 Luglio 2014 ore 21:00
27 Luglio 2014 ore 21:00
29 Luglio 2014 ore 21:00
3 Agosto 2014 ore 20:45
10 Agosto 2014ore 20:45
16 Agosto 2014 ore 20:45
24 Agosto 2014 ore 20:45
26 Agosto 2014 ore 20:45
31 Agosto 2014 ore 20:45
4 Settembre 2014 ore 20:45
7 Settembre 2014 ore 20:45
TURANDOT
Date
5 Luglio 2014 ore 21:00
9 Luglio 2014 ore 21:00
12 Luglio 2014 ore 21:00
16 Luglio 2014 ore 21:00
26 Luglio 2014 ore 21:00
30 Luglio 2014ore 21:00
2 Agosto 2014 ore 20:45
MADAMA BUTTERFLY
Date
15 Agosto 2014 ore 20:45
22 Agosto  2014ore 20:45
27 Agosto 2014 ore 20:45
30 Agosto 2014 ore 20:45
2 Settembre 2014 ore 20:45
5 Settembre 2014 ore 20:45
Gli altri appuntamenti li trovate direttamente sul sito
http://www.arena.it/
Buona musica all'arena!
newsletter del 10/04/2013
Adesso tutti a Genova! 
Genova è una città divertente e con mille iniziative.
BALENE E DELFINI DA GENOVA
OGNI ESTATE
Lo sapevate che è possibile imbarcarsi da Genova per andare a vedere le balene e i delfini? Sicuramente è un'esperienza consigliata  a chi non soffre il mal di mare. Questa esperienza è molto adatta per ogni età. I bambini ne rimarranno affascinati  ma  gli stessi adulti proveranno forti emozioni.
Quando ? Ogni estate
Vi sono due consorzi che, nella bella stagione, vi accompagneranno in questa magnifica esperienza.
Ecco i due contatti su cui potrete vedere sia le date che i prezzi.
Questa esperienza è veramente unica nel suo genere perché la natura sa decisamente emozionare e regalare  sensazioni uniche!
http://www.whalewatchliguria.it/turismo/
http://www.liguriaviamare.it/mare/index.php?option=com_content&view=article&id=142&Itemid=87
newsletter del 08/04/2013
Firenze
Bella stagione ? Ora di andare a Firenze. Città gioiello all'aria aperta e come se non bastasse vanta mostre esclusive sia permanenti che temporanee. C'è solo l'imbarazzo della scelta.
Ecco uno sguardo a due mostre temporanee.
CORTONA. L'Alba dei principi Etruschi
Fino 31 luglio 2014
Museo Archeologico Nazionale, Firenze
La civiltà etrusca da sempre affascina per la sua completezza e la sua complessità. Soprattutto non finisce mai di stupire perché nuovi ritrovamenti archeologici mettono in evidenza  aspetti che completano il complesso quadro che descrive questo popolo. In questa mostra vengono esposti oltre 200 pezzi in cui si evidenzia l'importanza della figura femminile nella società etrusca. I reperti esposti mettono inoltre in evidenza alcune peculiarità di questa popolazione ai suoi albori: importante chiave di lettura per poterne comprendere l'evoluzione sociale fino al massimo splendore
Pontormo e Rosso Fiorentino: divergenti vie della "maniera"
Fino al 20 luglio 2014.
Palazzo strozzi
Questa mostra è un salto nel Cinquecento della pittura italiana. I due pittori protagonisti della mostra – Pontormo e Rosso Fiorentino- erano degli anticonformisti per il tempo. L'arte era in parte codificata con regole precise sia dagli artisti che dai vari poteri circostanti fra cui la chiesa. Essere " fuori dal coro" voleva dire essere dei ribelli. Pontormo fu molto amato, nonostante  i suoi nuovi schemi rappresentativi, dalla famiglia Medici. Per quanto riguarda Rosso Fiorentino il suo percorso pittorico richiama anche all'esoterismo e alla cabala, argomenti rinnegati dal potere pontificio. Le loro forme armoniose , le tele, dalle più grandi alle più piccole, sono capolavori che spiegano un'epoca dove si sentiva la necessità del cambiamento nonostante i vincoli sociali.
Firenze vi affascinerà: queste sono solo due delle innumerevoli mostre che potete trovare a calendario.  Come sempre qui l'arte primeggia.
newsletter del 01/04/2013
Vino in Festa 2014 in Trentino
Torniamo a vedere cosa succede in Trentino per la primavera
Tra il 10 maggio e il 7 giugno, eventi, incontri, degustazioni e tour guidati per scoprire il meglio della produzione vitivinicola locale. Amanti del vino e non è un'ottima occasione per conoscere i prodotti di un'area del territorio italiano
Il vino, tutto da vivere
Tra maggio e giugno, lungo la Strada del Vino dell'Alto Adige, sono davvero pochi i giorni in cui non sia in programma una degustazione, un incontro con dei viticoltori, una visita alle cantine o una passeggiata tra i vigneti.  Si incomincia il 10 maggio, con le Giornate Altoatesine del Pinot nero, nei paesi di Egna e Montagna: il meglio della produzione locale, con uno sguardo anche fuori dai confini nazionali. Ma gli appuntamenti in programma sono davvero tanti, e diversi tra loro: il più famoso si conferma, di anno in anno, la Notte delle Cantine, che come sempre chiuderà in grande stile Vino in Festa; il 7 giugno, dalle ore 17 fino a mezzanotte, le cantine lungo la Strada del Vino dell'Alto Adige apriranno le loro porte ai visitatori, che potranno scegliere tra degustazioni, incontri, concerti e cene romantiche  (a disposizione un servizio navetta che collega tra loro le cantine).
Due invece gli appuntamenti all'insegna delle due ruote: si parte con il Wine&Bike Day, il 18 maggio, durante il quale la Strada del Vino dell'Alto Adige sarà chiusa alle automobili da Terlano, attraverso Andriano fino a Nalles, per permettere a tutti di godersi una gita in bicicletta senza traffico. Lungo il percorso saranno allestiti punti di sosta per gli stessi ciclisti. In alternativa, il 6 giugno a Caldaro si può partecipare a Vino & Bici, tour che combina la pedalata con la visita a due cantine e al Museo del Vino dell'Alto Adige, e si conclude con un pranzo sulle rive dell'omonimo lago.
Per chi ne vuole sapere di più sull'universo vitivinicolo della Strada del Vino dell'Alto Adige, segnaliamo inoltre L'abbiccì dell'enologia approfondito (il 21 maggio all'Enoteca Gandolfi di Bolzano), Il Lagrein al passo col tempo (il 29 maggio a Ora) e la degustazione vini "Gschleier" a Cornaiano-Appiano, proprio tra i vigneti (il 31 maggio).
Numerosi anche gli spunti culturali: da Vino & Artigianato (il 31 maggio a Cortina S.S.D.V.) a Vino & Musica a Cortaccia, con esibizione – tra le altre cose – della banda musicale giovanile del paese (il 1° giugno).
Se vi servono maggiori info potete contattare www.bolzanodintorni.info
newsletter del 19/03/2013
Facciamo un salto in zona Napoli?
Arriva Andy Warhol con una mostra da non perdere
PAN Palazzo delle ARTI
dal 18 Aprile al  20 Luglio 2014
Via dei Mille, 60, 80121 Napoli
http://www.palazzoartinapoli.net
150 opere esposte nella mostra intitolata VETRINE. Si passa dai ritratti dei personaggi famosi al concetto di serialità delle opere. Un tema ricorrente è il legame tra l'artista e la città di Napoli che si sviluppò soprattutto negli anni '70.
newsletter del 10/03/2013
Primavera in Sicilia per godere del clima meraviglioso, dei mandorli in fiore, del buon cibo e delle manifestazioni che offre la regione.
Ecco qualche spunto un po' fuori dalle righe per vivere la quotidianità siciliana
STREET ART A PALERMO
Qualche giorno fa è stata inaugurata una vera e propria galleria all'aria aperta dove sono stato chiamati sette artisti specializzati in street art. Dove trovate tutto ciò? Nel parcheggio dell' Ibis Style Hotel. Non si può dire che sia l'esposizione che la location manchino di originalità. Un chiaro esempio di come ogni spazio circostante possa diventare occasione di rinnovo e di qualche cosa di piacevole.
MERCATINO PIAZZA MARINA, PALERMO
SABATO MATTINA , EVENTO GRATUITO ore 8 -13
Siete stanchi dei soliti scontati oggetti? Ecco un posto magico dove potrete trovare pezzi unici e fare ottimi affari.
Sabato mattina armatevi di scarpe da tennis e tutti in piazza Marina a Palermo. Un mercatino dedicato all'antiquariato, vintage, oggetti di seconda mano. In questi posti potrete trovare gli oggetti che usavano i  nostri nonni e che sondiventati adesso pezzi da collezione molto cool.
newsletter del 10/03/2013
Roma, la città eterna è splendida in tutte le stagioni dell'anno. C'è sempre una buona scusa per visitarla.
Ecco due spettacolari mostre che troverete in programma in questo momento. Ce ne sono tantissime ovviamente!
DAL 14 MARZO al 5 OTTOBRE 2014
LA BIBLIOTECA INFINITA I LUOGHI DEL SAPERE DEL MONDO ANTICO
Come si sviluppò la cultura scritta? Si parla dei primi libro nel V secolo a.C e già nel IV a.C secolo si parlava di commercio di libri. I romani ebbero la loro prima biblioteca nel I secolo d.C. La mostra illustra come era vissuta e diffusa la cultura scritta in passato. Questa mostra è stata organizzata dopo gli ultimi scavi della metropolitana a Roma che hanno portato alla luce gli auditoria di Adriano. Si aggiungono ritrovamenti inestimabili venuti alla luce dagli scavi di Via dei Fori Imperiali. Gli immensi tesori di questa città unica nel mondo non sono stati ancora scoperti del tutto e per questo  Roma , oltre alle bellezze che già conosciamo, ci offre sempre uno sguardo nuovo sul suo ricco passato. La location? Niente di meno che il Colosseo
Maggiori info
http://archeoroma.beniculturali.it/mostre/biblioteca-infinita-luoghi-sapere-nel-mondo-antico
 newsletter 3/05/2014
SULLE TRACCE DEL VINO IN BICICLETTA
TRENTINO ALTO ADIGE
Con l'arrivo della bella stagione una proposta interessante è anche un giro in bicicletta sulle tracce del vino per poter unire il piacere del contatto della natura. Vi verranno suggeriti degli itinerari per  scoprire luoghi e vini. Tutto con il vostro ritmo e tempo. Senza fretta.
maggiori info
http://www.suedtiroler-weinstrasse.it/italiano/vino—bici/
newsletter del 05/02/2014
Arte e Genova
Il capoluogo della piccola regione Liguria è una cittadina ricca di eventi culturali che si prodiga a stupire sempre il visitatore. Vi sono luoghi permanenti da cui non può prescindere la vista come il famoso acquario con un nuovo padiglione progettato dal brande architetto Renzo Piano atto ad ospitare i delfini. Altri luogi sono la bella passeggiata di Anita Garibaldi nel suggestivo "quartiere" di Nervi, Via Garibaldi, i palazzi dei Rolli, la cattedrale di San Lorenzo , Il castello d'Albertis. Questi per citare solo alcuni dei luoghi immancabili di questa splendida città
Dopo esservi persi per la vie del centro storico ed aver affondato I vostri denti in un pezzo di focaccia ligure, vi suggerirei anche qualche interessante mostra che potete trovare in questo periodo.
Le incredibili macchine di Leonardo
Chiesa e Museo di Sant'Agostino 
Fino a  29 giungo 2014
http://www.museidigenova.it/spip.php?article866
Poter vedere realizzate anche solo in modellino le splendide macchine che il Genio di Leonardo progettò nei suoi magnifici codici, è un'esperienza unica per  grandi e bambini. Fruiti da soli i codici risulterebbero criptici ma esemplificati in questa mostra  diventano chiari, immediati ed ancora una volta si rimane abbagliati dal genio di Leonardo
newsletter del 22/01/2014
Treviso e dintorni 2014
Possagno ( Treviso) è la patria di Antonio Canova che spesso ammiriamo nelle sue splendide sculture.
Il museo Canova ospiterà fino al 22 giungo 2014  l'opera de Le tre Grazie, per cui una ottima occasione per vedere un capolavoro dell'arte neoclassica realizzato agli inizi del 1800
La scultura di questo artista lascia a bocca aperta per l'armoniosità delle forme a la precisione della realizzazione che richiama i canoni dell'antica Grecia
newsletter del 06/01/2014
Venezia è una città vistabile in ogni stagione perché il suo fascino è mutevole in base al periodo dell'anno in cui ci si trova e non delude  mai.  Se avete deciso di visitare questa magnifica città, oltre ai monumenti e alle mostre permanenti che troverete altre mostre interessanti temporanee ma il suggerimento in questa newsletter è di visitare il Museo del vetro: prodotto artigianale ed artistico tipico di queste zone.
Fra le mostre permanenti  un suggerimento è quello di vistare il Museo del vetro
Isola di Murano
Fondamenta Giustinian 8
La mostra raccoglie delle collezioni del passato che evidenziano la grandissima abilità artigiana del vetro di questa zona . Chi non conosce il vetro di murano per il suo pregio e la sua splendida lavorazione? Una parte molto interessante di questa mostra è quella dei ritrovamenti  degli oggetti dal I al III secolo d.C  passando al Quattrocento ed al Novecento. In questo momento il museo ha delle sezioni chiuse per restauro ma conserva tutto il suo fascino ed è visitabile anche grazie al pass che potrete comprare per il vostro soggiorno a Venezia e vi permetterà di avere l'ingresso in molti musei e vantaggi comodi da usufruire.
Buon soggiorno a Venezia
AQUARIUM E AREA ARCHEOLOGICA  DI BOSCOREALE
Permanente
Via Settetermini, 15   Boscoreale ( Napoli)
Di fianco a mostre temporanee cogliete l'occasione di visitare questa mostra permanente .  Un chiaro tutto nell'archeologia passata che mette in risalto la vita quotidiana di quest'area: una area ricca di cultura e di popolazioni . Bisogna uscire da Napoli e raggiungere Boscoreale con la Circumvesuviana  per arrivare a questa amena località poco a nord di Pompei. Questo sito archeologico mostra quella che fu la vita degli abitanti della zona prima della grande eruzione del Vesuvio che distrusse gran parte dell'area nel 79 d.C e la successiva rioccupazione della medesima area. Il sito è accessibile anche ai disabili
http://www.coopculture.it/heritage.cfm?id=9